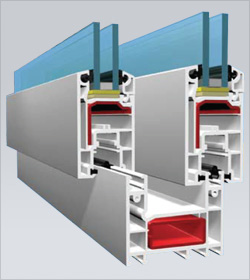 Suitable for used in residential developments, commercial buildings, factories, school hospitals and hotels Provides as alternative to conventional casement systems. the system's compliance to various performance specific criteria makes it an ideal first choice in current construction market.
Product Features
Main profile wall thichness of > 2.5mm is fully compliant to technical specification as set forth in europeon standerd , EN 12608. - Class B
The multiple chamber system design enhances heat and sound insulation properties.
Galvanized steel reinforcement of thickness > 1.5 mm imports optimum stability to the system.
System is capable of accepting a wide variety of single or double glaze units by choosing different sized glazing bead from the VEKA range.
Color foil lamination and vacuum spray coating processes can be applied to the profile systems to satisfy the aesthetical needs for color co-ordinated windows in development.
Colors and Patterns
Dark Oak
Light Oak
White